W e understand woodworking and the craftsmanship that goes into each job. With 130 years of combined experience Ike's Millwork is the grandfather of knowledge. Communication is very important to us and we value the vision you have for your design. Our goal is to get it right the first time with a punch-free project.  
We offer Commercial Millwork and Casework to render a complete package. We provide North Carolina and South Carolina with quality manufactured and designed architectural woodwork, custom cabinetry, plastic laminate casework cabinets.  update refurbish existing cabinets by re-laminating them on site.  
 Working alongside selected designers our goal is to help accomplish the vision of each client. Ike's Millwork makes it an obligation to help facilitate the need to keep facilities open and running while remodeling or adding on additions.  
Our Project Managers are all hands-on deck and work hard to turn out an on-time on-budget project. We will provide delivery and installation. Ike's Millwork has invested in CNC machinery to provide the most precise cuts and drilling. We have established the best relational working environment to satisfy attention to detail and safety. We are committed to going the extra mile to make it right. 
Cabinetry

 

Ceilings

 

Windows

 

Doors

 

Service Counters

 

Reception Desk

 

Moldings and Millwork

 

 

Commercial

 

Solid 

surface

 

Granite, marble, stone

 

Custom wall paneling
Medical and Dental Facilities

 

Professional Office Spaces

Legal

Architectural

Financial

Reception Areas

 

Amenity Areas

 

Restaurants and Breweries

 

Salons

 

Manufacturing/Warehouse Facilities

 

Schools and Universities

 

Churches
"I have had the pleasure of working with Ike's Millwork on the Florence project. Their team did a great job with the millwork install and were always willing to work with Rodgers, other subcontractors, the architect, and the client to fulfill their needs. I would wholeheartedly recommend Ike's for any project and look forward to working with them in the future."
– David (Rodgers Builders, Inc.)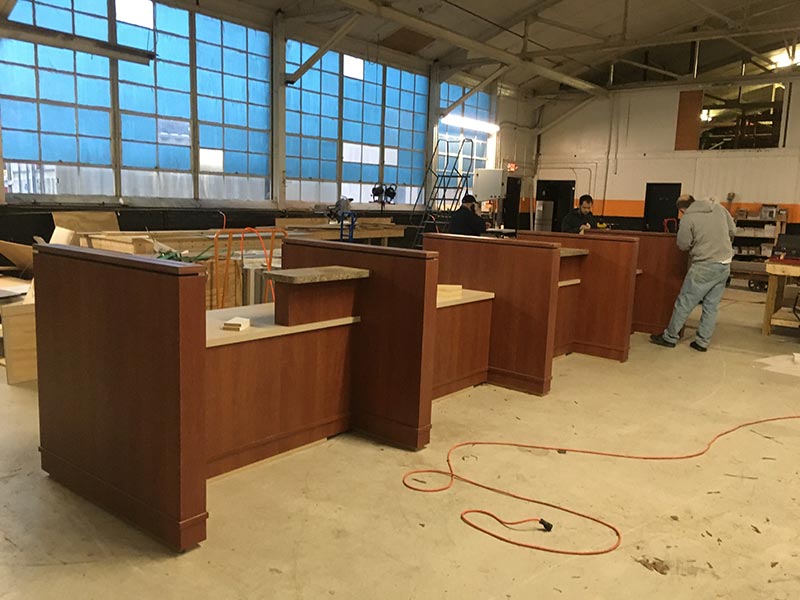 "I have had the pleasure of working with Ike's Millwork on the Florence project. Their team did a great job with the millwork install and were always willing to work with Rodgers, other subcontractors, the architect, and the client to fulfill their needs. I would wholeheartedly recommend Ike's for any project and look forward to working with them in the future."
– David (Rodgers Builders, Inc.)